Converting DMGs to r/w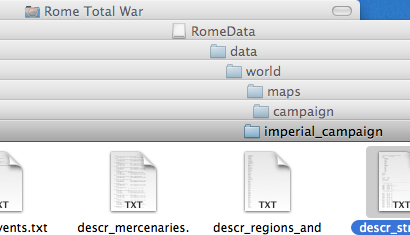 Here is a basic walk-through on how to convert a Mac DMG file from read only format to a read/write format.
This is not recommended as it can make any piece of software unstable or unusable, but in certain cases it is useful to let you modify the software. The original software developer and or publisher will not support you doing this.
This is written with the intention of allowing files within Rome: Total War on the Mac to be modified, although it is equally valid for other read only DMGs which you need/want to convert to read/write format.
It is always recommended that you make a backup of the original DMG file  in case something should go wrong and you need to reinstate it.
First, locate the Rome Total War folder, which by default you would have copied to your Applications folder on your Macintosh HD. Next, open Disk Utility, found in the Applications > Utility folder. Drag the RomeData DMG file into the left pane of Disk Utility.

It should then appear in the list of drives & images, as follows: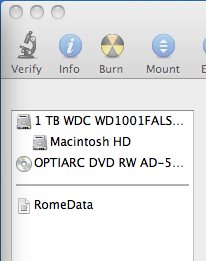 Select RomeData in the list and click Convert.

You will be presented with some options. Select read/write from the drop down menu and Save it to your Desktop.

A panel showing you the progress should then appear.

Once it is complete the new DMG should have appeared on your Desktop – it will be called either RomeData or RomeData.dmg. Drag the file from your Desktop into the Rome Total War folder.

You will be prompted to replace the existing file. If you haven't already made a backup of the original DMG, you should Stop and do that beforehand. If you have already made a backup, choose Replace.

Once the file has finished moving, you have successfully converted and replaced the read only DMG with a read/write version.
You can then double click on the RomeData DMG file to mount it and subsequently make any alterations you wish. If you find you've managed to break something, simply replace the DMG with the original from your backup.
Let me know if I've made any mistakes, if you've found this useful, or if you're having problems. I'll do my best to help!
Tags: feral