New Site – TSW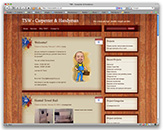 I've recently completed a new website for a skilled carpenter and general handyman based in Norwich, Trevor Waters.
The brief was to create a showcase for the craftsman's work and allow clients to get in touch to request quotes and / or more information.
TSWcarpentry.co.uk is my first site to run solely on the WordPress Blogging / CMS platform. The client already had a template in mind that he wanted to use, but a certain amount of customisation was needed to fulfil his requirements. In addition to this, several existing plugins were introduced to bring the full effect together.
More and more I am finding WordPress to be the platform of choice for developing sites which require a little more 'omph' than a simple page structure.
Tags: freelance