Browser Testing
As the tast of browser testing is something that plagues all web designers, I thought I'd put together a short run-down of the currently available solutions. However, there is no definitive answer.
First off, Microsoft's new SuperPreview sounded good, but this restricts you to IE 6 and the browser you currently have installed, such as IE 7 or IE 8, but not all three at the same time. May be a good solution if future updates included more browser options and live usage of the site in question rather than simple screenshots.
If you can suffice with screenshots and don't need to test usability and interaction, then services such as browsershots.org, netrenderer and the recently released Alkaline application from Litmus are well worth looking at.
For actually running the browsers reliably at the same time, you will need to have separate machines (virtual or actual). VMware allows you to set up and run several virtual machines at the same time with different software configurations and is currently the solution I'm using.
If you have any other solutions which could help in the never-ending quest for browser compatibility, let us know in the comments

Useful further reading:
SuperPreview announced.
How to Build the Best Browser Test Suite
-UPDATE- (June 3rd)
Adobe has just opened their Browser Lab to public beta testing. Having tried it out today, I can confidently say that this is one to watch. Currently it produces static previews, similar to that offered by other services, almost instantly, once you've logged in with your free Adobe ID. Once the beta is closed, they plan to use a subscription based service, similar to Alkaline. It will show you how your site will render in the following browsers: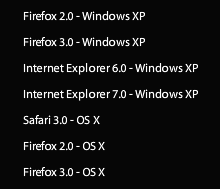 If developed correctly with the resources it needs, this could become a one-stop-shop solution to browser testing for all web designers and developers.
Why not give it a go and let me know your thoughts?