Push Forward
So, we are now well into the year 2009.
Unfortunately my aim to finish this and my freelance site over the Christmas holiday period was thwarted by the flu pandemic which seems to of hit the majority of the UK. However, all is not lost! I have now got my freelance site, design-is.co.uk, to a stage where I'm happy enough to push forward and get some stationery printed up and flyers/business cards handed out.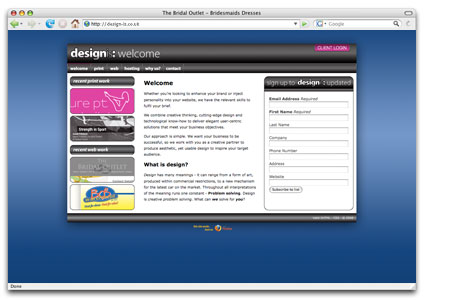 This site (dougbarned.co.uk) is nearing a similar stage – it's construction is complete, but it's not quite full of the intended content yet. I'll be working on this over the coming weeks, hoping to populate the work and miscellaneous sections with wonderful things.
I am also about to get stuck into a new site which has been partially designed, and built, but is stuck in the dark ages of web design with an antiquated table based layout and JavaScript powered roll-overs. I think someone had too strong a liking of Dreamweaver. I hope to remedy the situation.
In the technology arena, the year is already turning out to be an exciting one. Having avidly followed the process of the Macworld 2009, I can honestly say I would love to know what Apple have in the pipeline. I keep up-to-date on the latest rumours on MacRumors.com, but somehow it's never quite enough. To prove this point, my favourite appearance at Macworld has to be from Axiotron, an Apple Premier Developer. They are responsible for the much sought after ModBook launched last year. This year, they begin shipping their new ModBook Pro. This machine looks to be a thing of dreams – the closest thing to digital paper a designer can get. I can't wait until Axiotron start trading in the UK.
As a closing note to 2009′s opening post, I would like to say how much I am looking forward to the finalization of CSS 3 and in particularly hope for a good implementation of the new multiple columns and text flow features.
Thanks for reading, I intend to be a bit more active with posting from now on.